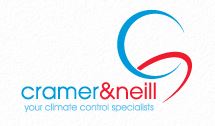 Cramer & Neill
Cramer and Neill began in 1982 and has grown to become a leading supplier throughout the Mid West in the areas of Commercial and Residential Air Conditioning, Commercial Refrigeration and Mechanical Ventilation.
In September 2007 after 25 years the trading entity of Cramer and Neill was sold. The new owners Tony Emmott and Darrell Forth had been in senior management roles in Cramer and Neill for many years, and saw the opportunity to further develop the business to meet the growing needs of the region.
Our business has now grown to employ 25 full time people including 6 apprentices. We pride ourselves on our diverse range of services with ion, installation, testing and commissioning, service and maintenance of a wide range of systems. This means our clients get a full package when they deal with Cramer and Neill.
Builders Reg No:
Areas: Mid West
Contact: Tony Emmott
T: 08 9965 6600
F: 08 9965 6666
PO Box 870
GERALDTON WA 6531
Visit Website