Superannuation Information and Help
Master Builders are constantly monitoring this fast-evolving situation now known and addressed as Covid-19. We are continuously assessing the impacts on our industry and will continue to support our members by providing relevant guidance, support and advice in line with Federal and State Government responses.
To assist our members, we will continue to provide updated information on the situation through our website and other forums. We will continue to keep you updated with relevant information, fact sheets and information as we progress through these issues together
---
Hardship and compassionate payments
Sunday, 22 March, the Federal Government announced temporary changes to the early release conditions for individuals as part of its economic COVID-19 virus response. The Government is allowing affected individuals to access up to $10,000 of their superannuation in 2019-20 and a further $10,000 in 2020-21.
Implementation is scheduled for mid-April 2020. The specific date is yet to be confirmed.
Details and processes will now be developed by the Federal Government and the superannuation funds.
The latest details should be accessed by following this link to the Federal Government's fact sheet.
In the meantime, members who are seeking more information about the early access to their super balances under the existing government regulations should visit the Accessing my super page.
---
Cbus responds to COVID-19 outbreak
The Coronavirus (COVID-19) has created a unique situation and we understand that many people are feeling concerned about its impacts. Cbus is doing everything we can to assist our members and employers during this period.
We encourage you to use our website for information about your super.
It's regularly updated with resources and important information, including a list of FAQs and information about the Federal Government's recent announcement to temporarily change the conditions allowing early release of superannuation.
The Government is allowing affected and eligible individuals to access up to $10,000 of their superannuation before 1 July 2020 and a further $10,000 from 1 July 2020 (members must apply before 24 September 2020).
You can also find the new Early Access to Superannuation flyer on our website.
While this payment will be helpful for many, we want members to consider all the facts before making any financial decisions.
Investment markets are at relatively low levels due to volatility created by the COVID-19 pandemic.
If a member's super is withdrawn and their balance gets too low, it may not cover the costs of their insurance and cover will stop.
There are also other potential financial sources and relief options that members may have available to assist.
We're here to help.
Cbus Member and Employer services are available to provide continued service and support.
Our Advice Line and Contact Centre are experiencing higher than normal call volumes so we encourage our employers and members to visit our website or members can also log into your account for regular updates and information.
Employers can contact your local Employer team representative, the Contact Centre on 1300 361 784, or email cbusenq@cbussuper.com.au with any questions.
This information is about Cbus. It doesn't take into account your specific needs, so you should look at your own financial position, objectives and requirements before making any financial decisions. Read the relevant Cbus Product Disclosure Statement and related documents to decide whether Cbus is right for you. Call 1300 361 784 or visit www.cbussuper.com.au for a copy.
Should any members have any questions relating to the above information, please contact CBUS Super directly.
James Moore | Business Development Manager
james.moore@cbussuper.com.au 0437 688 538
---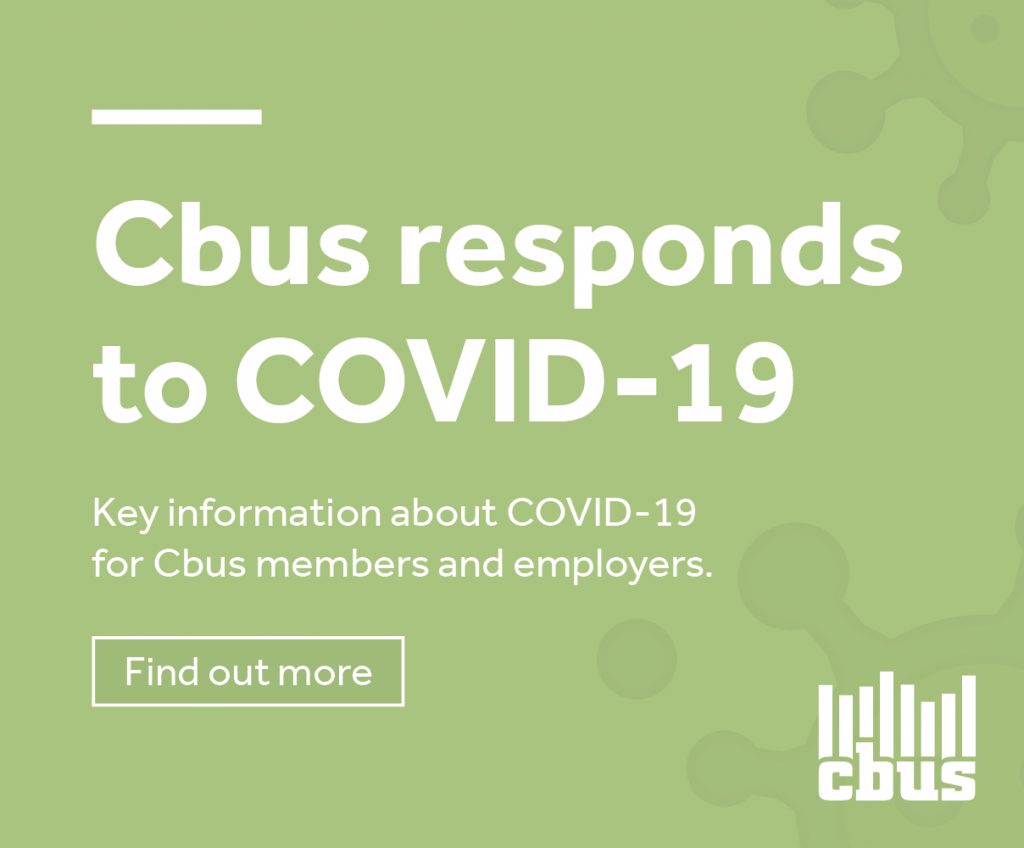 ---
Not a Member?
---
Make sure you are following us to stay up to date for the latest news and responses